The Internet of Things, known as IoT, has become extensively popular in all aspects of technology today. Many technology leaders are focusing on building solutions that revolve around IoT. Most brands worldwide are leveraging the power of connected devices to deliver fulfilling customer engagement to their end customers.
But before you get invested in the glam and glory of the Internet of things, let us first dive into what it means, what makes it so popular, and if it is worth all the hype.
What is the Internet of Things?
In simple words, IoT is a system of interconnected devices communicating and sharing data over the Internet. All these intelligent devices "talk to each other and share information with other devices, applications, and systems. These systems and appliances create a network where data is shared seamlessly, and data-driven actions help the users monitor or run their systems better.
The simplest example of IoT would be a smartwatch that you wear on your wrist that monitors your movements and sends your triggers to move and get active when you sit for an extended time in front of your screen or a water level monitoring device in your overhead water tank that turns on the water pump when the tank is about to get empty and switches off the water pump automatically when the water fills up.
These are very basic-level applications of IoT devices. Now imagine an interconnected network of sensors, applications, and devices on a large scale that can run an entire system based on data triggers. For example, photosensitive sensors fixed on all streetlights in the city turn on all the lights once the sun sets and turn them off when the sun rises. Along with that, another sensor detects the lumens emitted by the streetlights to collect data that ensures that the street is adequately illuminated. In times of more traffic, the brightness levels of the streetlights reduce automatically as the headlights of the cars on the road contribute towards illuminating the road, and as the traffic dies down, the brightness of the streetlights increases to keep the roads illuminated all night long. This will reduce the electricity consumption of the city government while ensuring that the citizens face no hurdles while on the road.
IoT has many applications other than personal and organizational. Brands leverage IoT to deliver efficient services to their customers, for marketing initiatives, to run and monitor warehouses and industry complexes, for asset management, and much more.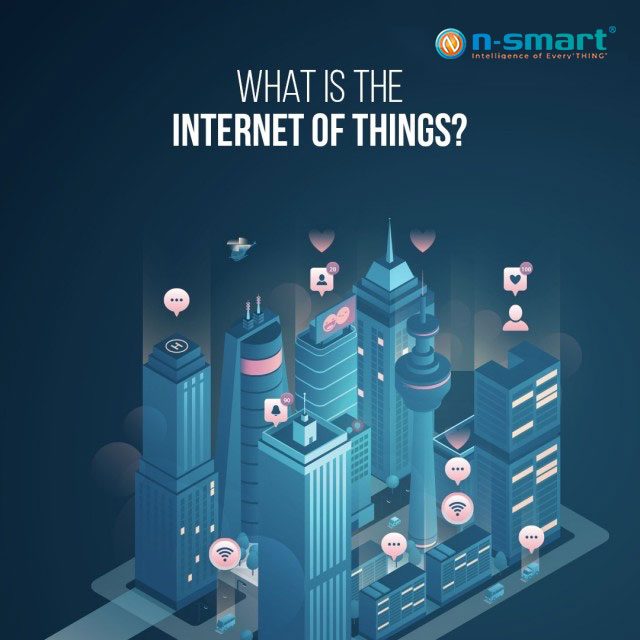 What Makes IoT so Popular?
We live in an age of technology where services are delivered to us at super fast speed. Amazon won the market game with 1-day deliveries. This speed applies to all industries and markets. All actions, be it business, service, maintenance, or anything else, are proactive now. We have jumped directly from reactive to proactive in all aspects of business today. It is always about anticipating the next need of the customers, the next problem, the next emergency, the next trend, the next demand, the next environmental crisis, and the next everything.
To anticipate the next, you need data, and to get all the possible data from all the systems possible, we have the Internet of Things.
The entire business model today has moved from data-centric to event-driven. A business today does not wait for their customers to realize the need for their brand; they either anticipate the need in advance or create it. Gone are the days when technology was used to store data. Today, technology is meant to collect, store, and process data and take actions based on it.
At the core of the event-driven architecture is the Internet of things.
IoT is the key to 'anticipating the next and being prepared for it.
Uses of IoT
As discussed briefly, IoT has multiple applications and is not limited to any industry or sector. To broadly categorize the uses of IoT, we can have five categories: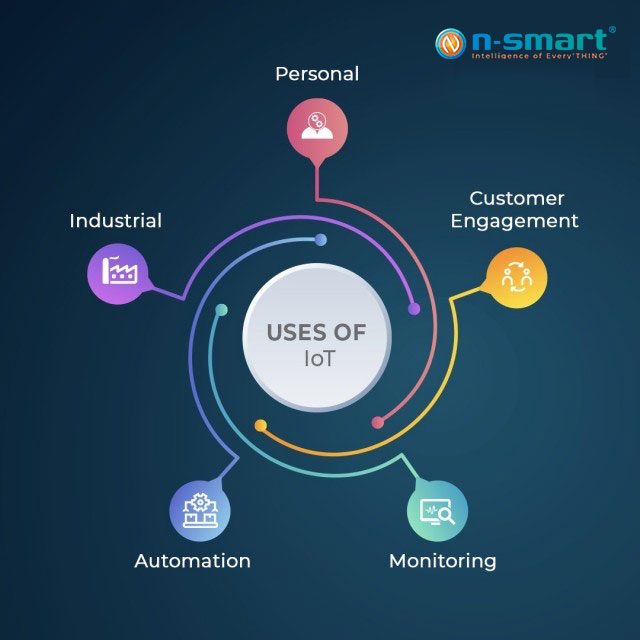 Personal
As the name suggests, IoT for personal use is the way IoT is implemented for an individual's usage. For example, your smartwatch. You can even have an IoT-enabled household where all your devices and systems are interconnected for your convenience.
These smart homes are a reality today because of IoT. When you go to sleep at night and turn on night mode on your phone, the lights in your bedroom automatically dim, and soothing music starts playing on the speakers that put you to sleep. In the morning, when your alarm goes off, the blinds automatically open, and you can feel the morning sun through your windows. As you reach the kitchen, your smart coffee maker is already running, and your coffee pot has freshly brewed coffee for you. Your toaster pops out freshly toasted toast for you, and your day starts.
Customer Engagement
Brands use IoT to deliver the best customer service and build better customer engagement with their customers today. A newly emerging electric vehicle brand has fitted sensors in their machines that detect wear and tear and can send a servicing alert to the user. They also have performance monitoring sensors that help them study their vehicles and improve their design. Many brands send you sale alerts on your phone when you are in the vicinity of their physical stores while shopping.
The possibilities of elevating brand engagement through IoT are increasing daily, and the brands are just getting started.
Monitoring
With IoT, machines can talk to each other. What can simplify monitoring than having all your machines communicate effectively through data? Large-scale industrial plants, warehouses, hospitals, service providers, etc. Use IoT-enabled asset management or inventory management solutions that help them track and monitor the health of all their assets and machines. This is a wonderful breakthrough for businesses that have to deal with regular machine maintenance and warehouse management.
They can track the status of their inventory items, perform a maintenance check on their machines, track a faulty link in case of a breakdown, or monitor the performance of any equipment, all with a few clicks within their systems. The IoT sensors power all this.
Automation
Automation is the key today. Automation is only possible when there are data-based triggers in the system, and the data is collected from the devices without any human intervention. Thus, IoT is the key to the automation of systems.
Like the example of smart streetlights discussed above, IoT-driven automation has enabled businesses to save costs, eliminate bottlenecks, streamline their processes, and deliver services or products faster.
Industrial
The industrial application of IoT, better known as IIoT, is the application of IoT for all industrial setups. Industrial setups require detailed monitoring and efficient automation, asset management, and inventory management. IIoT also includes Machine learning and artificial intelligence that adds a layer of automation and brings forth the modern business model for industries. It leverages allied technologies – the cloud, AI/ML, and IoT with machine-to-machine (M2M) communication to achieve a truly wireless control experience.
What powers IoT?
The term IoT was coined in 1999 to promote RFID (Radio Frequency Identification) wireless technology. But the IoT we have today is an amalgamation of various principles and aspects of modern technology.
Low-power, affordable sensor technology – The cost of running IoT-enabled systems would skyrocket if the sensors consumed more power. The idea of having IoT-powered automation is to reduce costs and simplify operations predominantly.
The cloud – the Internet and cloud storage have simplified the workings of IoT. It enables IoT devices to store large amounts of data on the cloud and share data with other systems over the Internet. The cloud and the Internet are to IoT as telephone lines are to landline phones.
Conversational AI – To enable seamless machine-to-machine communication in IoT systems, conversational AI has played a key role in enabling it.
Open standards and open-source technology – IoT is powerless if there is no interoperability amongst various systems and devices. To enable easy communication and efficient data transfer, all devices, systems, and software must be interoperable and easily connected. Open standards and open-source technology enable that.
All these modern technology superpowers come together and form the base that IoT systems thrive.
Unlocking the Power of IoT for the Ultimate Business Value
The rapid rise in popularity of IoT is because companies worldwide have realized its potential and are capitalizing on its tremendous business value. IoT has shown promising progress in helping businesses with the following:
Connecting the physical business world to the digital world
Creating new business models and building various revenue streams
Deriving data insights from IoT for data-driven business decision making
Building and streamlining business processes
Driving efficiencies through automation in existing processes
Using wearables to monitor human health analytics deriving insights
Improving tracking and maintenance of physical assets
Creating new levels of efficiencies in manufacturing using machine monitoring and product-quality monitoring
All these business and industrial applications of the Internet of Things have elevated business offerings and services. Today, we have smart cities, smart warehouses, smart manufacturing plants, smart marketing, and smart everything.
But leveraging IoT for your business is not a short-term task. It is a long process that requires a huge budget and regular maintenance post-implementation. It is not a one-time implementation process but an ever-evolving one. Once you implement an IoT-enabled system for your business, you must keep iterating and upgrading it to ensure it fits your changing business needs.
Therefore, investing in IoT without expert advice might cost you a lot of time and resources with no visible outcome.
Many IoT Saas applications and IoT-as-a-service offerings in the market can help you deploy business-ready IoT solutions effectively.
Internet of Things Adoption Challenges
Tech leaders are already busy building applications and solutions leveraging IoT for various use cases across all industries. But having a business-ready application for IoT implementation is just half the battle won. After that comes the installation of sensors, onboarding those sensors on the application, and configuring the application to automate based on the data collected from the sensors. Once all this is done, and the system is up and running, you still have to ensure proper sensors and network connectivity maintenance.
On top of that, if your business requires a customized IoT SaaS platform, you will have to build it from scratch and then complete the onboarding and transition processes. Additionally, your team of developers needs to be more skilled to handle the intricacies of IoT. In that case, your entire digital transformation initiative might fail.
Research by Cisco says that around 75% of IoT projects fail even before completion. This is because IoT systems have a lot of moving parts in them. Major challenges of IoT adoption are:
Security concerns
Choosing the right sensor technology
Sustaining the IoT system and maintenance long term
Lack of developers skilled with IoT and supporting technologies
Interoperability and connectivity issues
To combat all these challenges and implement a future-proof IoT solution for your business, you need to look for IoT experts who can build custom solutions for you just as you envision them. To help businesses with this approach to IoT, there are experts the offer IoT-as-a-service solutions.
Business-ready Solutions with IoT-as-a-Service
To better understand what IoT-as-a-service has to offer, let us first understand what it means:
IoT-as-a-service, just like SaaS and PaaS, is an end-to-end IoT solution custom-built to fit your business needs and offers to oversee the installation, implementation, and maintenance of your entire IoT system.
Suppose you choose to build and deploy an IoT system for your business in-house; you will surely seek outside help and support for various aspects of the IoT system. For example, you could outsource the application design to a software company, choose a hardware expert for your sensors, choose a cloud provider to help you with cloud storage and cloud computing, or choose a network and connectivity expert to decide the ideal placement of the sensors and routers to ensure optimum network connectivity at all times, and many more experts. As you will bring in experts from different sectors, you will be the one who will end up being the collaborative link between all these external teams, and you will have a disjoint mess on your hands. Also, in case of any crisis, you will need to figure out whom to contact for support.
Instead, with IoT-as-a-service, you watch your IoT systems get deployed at every step with ease with efficient collaboration among all the teams. You have a single point of contact to address all your requests, and your IoT systems stay up and running without any hassle.
In simpler terms, IoT-as-a-service is like hiring a wedding planner and letting them handle your entire wedding and enjoy every moment of your dream wedding instead of planning every aspect separately and always being in crisis mode on D-day.
Bringing your Business Goals to Life with IoT
Nivid's N-Smart is a single-sourced, fully managed IoT-as-a-Service platform that offers turnkey IoT solutions, including the full lifecycle services in a subscription-based model. It is an any-to-any solution that combines hardware, connectivity, platform, and services in a single pane-of-view dashboard to simplify and accelerate smart applications' use cases.
N-Smart uses a lifecycle-based approach consisting of 3 phases. First- Deployment and Connectivity; Second- Data Management, Applications, and Analytics; Third- Operations and Management. The framework is an intelligent network of smart connected objects that transmit data using various communication technologies to a centralized platform. The system receives analyses and manages data in real-time to help technology and business teams make better decisions that improve overall performance and increase such devices' lifetime.
Nivid Technologies is a leading solutions provider of digital-ready technology infrastructure, focused on delivering technology 'as-a-service' covering strategy, design, implementation, and managed services. We offer the latest in wireless technologies (WLAN, Cellular, and IoT) and system integration services to deliver results that redefine the business value for an enterprise, offering mobility and analytics as strategic differentiators, enabling enterprises on a global scale to grow strategically & economically.
If you have questions or just want to get in touch, you can use this form to send us a message. We look forward to hearing from you!